Utah doctors issue challenge for parents to talk to teens about marijuana, vaping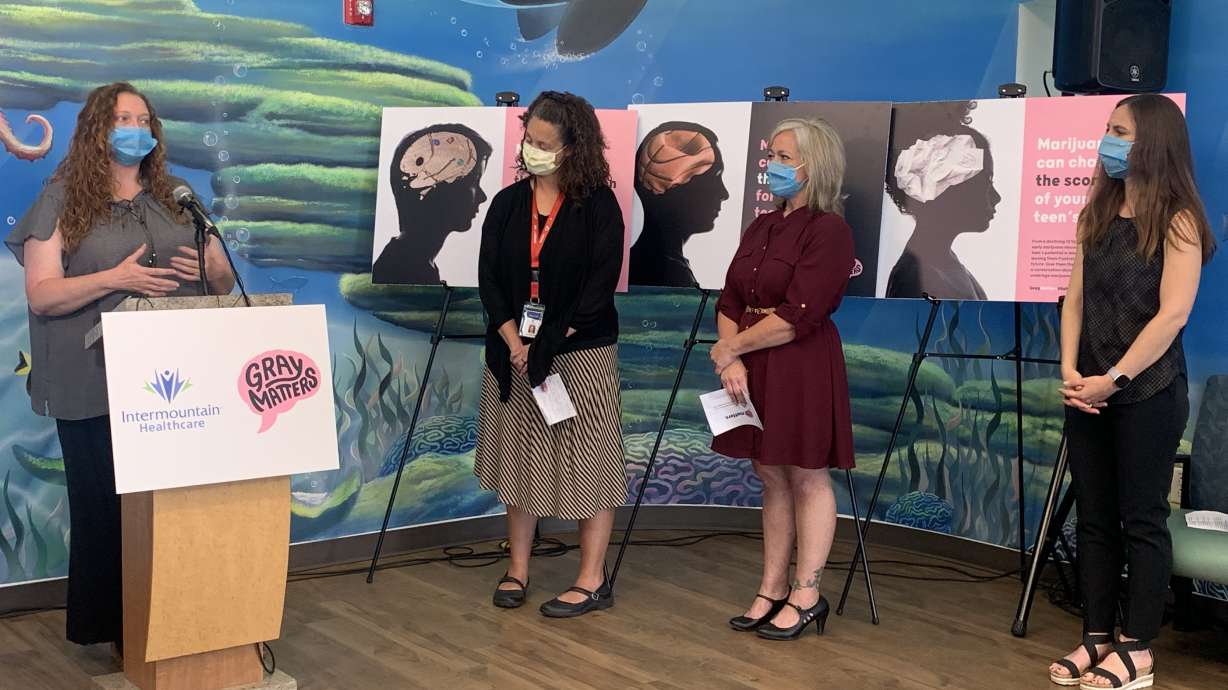 Utah doctors and health specialists held a press conference Tuesday at Intermountain Riverton Hospital to issue a challenge to parents, asking them to spend just one minute talking to their teenager about the effects of vaping and marijuana misuse. (Emily Ashcraft, KSL.com)
Estimated read time: 4-5 minutes
RIVERTON — Jessica Strong, community health director at Primary Children's Hospital, said they are seeing more kids admitted with mental and physical issues that could be traced back to marijuana use or vaping.
"We certainly have seen, over the last five to 10 years … there's been this massive, increased use of marijuana by teenagers, specifically. And as a result, you know, we certainly see more consequences," Strong said.
Utah doctors and health specialists gathered at Intermountain Riverton Hospital on Tuesday and issued a challenge for parents, asking them to spend just one minute talking to their teenager about the effects of vaping and marijuana use.
Dr. Lisa Giles, a pediatrician and child psychiatrist with University of Utah Health and Primary Children's Hospital, said teenage brains are still refining and forming synapses. Because this process goes from the back to the front of the brain, the prefrontal cortex — which solves complex problems — is still developing in youth and young adults.
Giles said that the THC in marijuana attaches to cannabinoid receptors in the brain and can affect a teen's attention span, memory and concentration ability. She said this can cause problems in school, reduced IQ scores, slower reaction time, and issues in the gut and lungs.
She also said it could lead to worsened mental health conditions, increased suicide attempts, and increased risk of schizophrenia.
"Our brains need all the support they can get for that brain to continue to develop. So let's not make it harder for them by introducing other substances," Giles said.
---
Over the last five to 10 years … there's been this massive, increased use of marijuana by teenagers, specifically. And as a result, you know, we certainly see more consequences.
–Jessica Strong, Primary Children's Hospital
---
Samantha Sorenson, a mom to five teenagers, said she can tell her kids are listening to the conversations she has with them because she has heard them repeating things to her and others. She said in one instance she turned the volume down in the car after one of her child's friends mentioned substance abuse and her children took over the conversation, talking about how substance abuse is dangerous for their brains.
"We want to be honest. We don't want to use scare tactics and say a bunch of sensationalized things. Be honest with what the situation is. Listen to what they say," Sorenson said.
She said in order to share facts, parents need to know the facts and suggested doing research. She also suggests helping kids and teens practice refusal skills so they feel more comfortable turning down a dangerous substance.
Heather Lewis, substance use disorder prevention director at the Utah County Health Department, said Utah County wants parents, patients and anyone with connections to THC or cannabis to understand the danger of marijuana misuse by young people.
"As young people, anytime we interject something into our brains … that is a substance where we're introducing potential danger," Lewis said. "Let's be smart and let's wait until our brains are fully developed."
A website associated with the challenge, greymattersutah.org, has resources for parents, with data that can help illustrate the consequences of marijuana misuse. People can also make a pledge on the website to talk to their teenagers about underage marijuana misuse.
Strong said Primary Children's Hospital has a program called Talk to Tweens, which aims to help parents talk to their teenagers and promote emotional and mental well-being.
"Just like you taught your child how to tie their shoes, there's things you can do to teach your child emotional well-being," Strong said.
She suggests parents help teens build social skills, learn about healthy relationships, and learn how to handle emotions. For example, she suggested helping tweens and teens identify and accept their emotions, and validate them.
"All feelings are valuable and have a role, and allowing your child to experience some of those uncomfortable feelings is really important to help them prepare for the next time they feel those feelings so that they know how to better manage those emotions," Strong said.
She said these conversations can also help build parent and child relationships. She said if parents are only getting one-word answers, they should try to talk with a teen who is relaxed and start questions with "tell me" or "describe" instead of "how" or "why."
×
Related stories
More stories you may be interested in