The Shift to Student-led: Reimagining Classroom Workflows with UDL and Blended Learning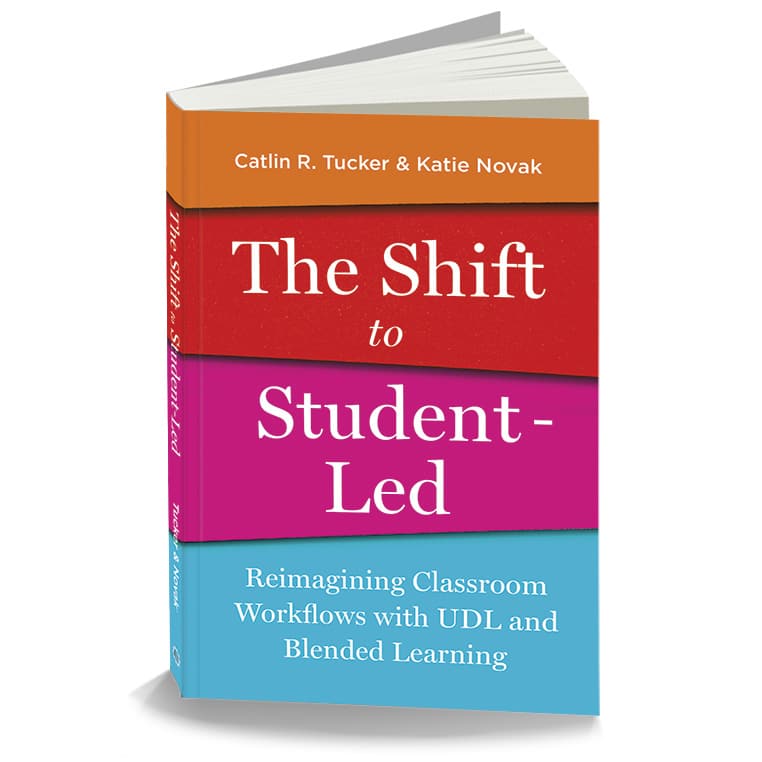 I am thrilled to announce that Dr. Katie Novak and I teamed up to write a second book exploring the synergy between Universal Design for Learning and blended learning! In this second book, The Shift to Student-led: Reimagining Classroom Workflows with UDL and Blended Learning, Katie and I wanted to accomplish two goals. First, we want teachers to rediscover their joy and reengage in this profession. Second, we want students to develop into expert learners capable of sharing ownership of learning so teachers are not doing the lion's share of the work.
Why did we write this new book?
The last few years have left many teachers exhausted, frustrated, and disillusioned with this profession. They are drowning in work and unrealistic demands. The status quo is not serving them or their students. They need concrete strategies and resources they can use to reimagine their approach to this work so that it is sustainable and rewarding.
Students also need to learn how to engage in the learning process fully. In many classrooms, students are still occupying the role of silent observer and consumer. They are not challenged to develop their metacognitive muscles, assess their work, provide each other with substantive feedback, and communicate their progress with the people in their lives. That translates into students who are not invested in their learning. Learning is something that is happening to them. They are much like fans sitting in the stands watching a game unfold on the field. Instead, students must be active, engaged participants in the learning process. This is the only way to cultivate expert learners who are resourceful, strategic, motivated, and self-aware. The more students actively engage in all parts of the learning process, the less pressure there is on the teacher to do all the work.
This book identifies 10 time-consuming, teacher-led, and frustratingly ineffective workflows and reimagines them using Universal Design for Learning (UDL) and blended learning. The goal of each workflow shift is to position the student as an active agent and blossoming expert learner to make these workflows more sustainable and effective! We want teachers to view students as partners in learning and arm them with the strategies and skills necessary to share the responsibility for learning with us.
This book is jam-packed with specific strategies, templates, and resources teachers can use to take what they are learning and implement these shifts immediately! We include "reflect or discuss" questions and application activities at the end of every chapter, making it the perfect read for a single teacher or a great book study text for a group of teachers!