Pete Davidson's Mom Seemingly Responded To An Instagram Comment About Him And Kim Kardashian Having A Baby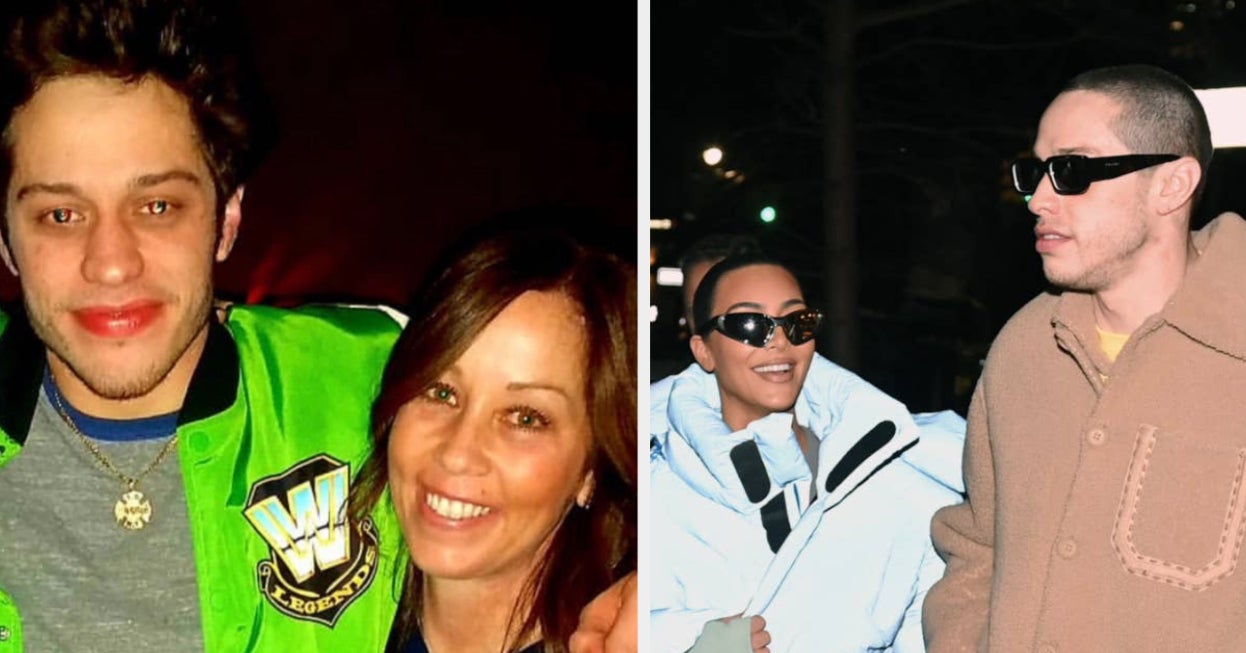 But Amy Davidson might want to hold off the celebrations as Kim was previously warned that it would not be safe for her to get pregnant again.
Pete Davidson and Kim Kardashian first started dating in October 2021 after she appeared as a guest star on Saturday Night Live.
It has been almost six months since they shared a kiss during an Aladdin-themed sketch on the show, and she and Pete were pictured holding hands on a roller coaster just days later.
Despite ongoing tensions with Kim's ex-husband Kanye West, Kim and Pete's relationship has been going from strength to strength, with the pair largely keeping their romance low-key and out of the spotlight.
They've enjoyed a series of date nights at local restaurants, and even budget outlet malls, with Kim looking happier than ever in recent TV appearances.
The couple didn't even publicly acknowledge their romance until February — but when Kim was interviewed by Ellen DeGeneres last week, she was more than happy to address the situation with Pete.
In fact, she revealed that he'd already had several tattoo tributes to her inked onto his skin, as well as a "branding" of her name.
Fans had spotted the word "Kim" on Pete's chest in a recent topless selfie. When Ellen asked her about this, she explained: "He has a few tattoos, a few cute ones. That one, the Kim one, isn't a tattoo — it's a branding. He wanted to do something that was really different."
"The branding is my name. The other ones are cutesy things. My favorite one says, 'My girl is a lawyer,'" she added.
Kim had previously said that how her and Pete's relationship came to be will be shown in her family's upcoming new reality show, The Kardashians, but confirmed that Pete will not appear on camera this season.
However, she teased that they might film "something really exciting" together in the future. Shortly afterward, she finally made her relationship Instagram official as she shared two photos of her and Pete on her social media page.
As if that wasn't enough, Pete has also secured a spot in Kim's inner circle by befriending close family friend Scott Disick, with the two men enjoying a "boyz night" on Sunday and attending Scott's son Reign's baseball game together.
Kim's sister, Khloé Kardashian, has given Pete her seal of approval too, after he sent her Valentine's Day flowers last month following her on-again, off-again boyfriend Tristan Thompson's paternity scandal.
And it appears that Pete's nearest and dearest are just as supportive of the relationship as Kim's are, with an Instagram comment apparently made by Pete's mom driving fans wild on Wednesday.
A Kardashian fan account had shared paparazzi photos of Kim and Pete sharing a kiss in a car as they reunited in Los Angeles this week.
Commenting on the photo, one fan tagged Pete's mom, Amy, and wrote, "She will be pregnant with his child by the end of the year," alongside a heart emoji.
Amy seemingly approved of the prediction, as she replied, "Yayyyy!"
While screenshots of the exchange have been circulating online, both comments appear to have been deleted from the original post.
BuzzFeed News has contacted Pete's rep for clarification.
While Pete doesn't have any children of his own, Kim shares four with Kanye: 8-year-old North, 6-year-old Saint, 4-year-old Chicago, and 2-year-old Psalm.
Pete has spoken highly of Kim's parenting in the past, and defended her after Kanye — who legally changed his name to Ye in August — lashed out at her on social media and in his song lyrics for the way she raises their children.
In his song "Eazy," which was released in January, Ye suggested that the kids are left with nannies and the family's TV crew as he rapped: "I got love for the nannies, but real family is better / The cameras watch the kids, y'all stop taking the credit."
He goes on: "When you give 'em everything they only want more / Bougie and unruly, y'all need to do some chores / Rich-ass kids, this ain't yo' mamma's house / Climb on your brother's shoulders, get that Top Ramen out."
There have also been several instances in recent months where Ye has criticized Kim for posting videos with North to TikTok, and he also accused her of "kidnap" for allegedly not telling him where Chicago's fourth birthday party was being held. Ye was pictured at the event shortly after making the claims.
In a rare glimpse into Pete and Kim's relationship, his best friend, Dave Sirus, leaked text messages that Pete had sent Ye defending Kim after he'd once again attacked her parenting on Instagram and in a private phone call.
The fight was seemingly prompted by Ye being unhappy that North would not be able to attend his Sunday Service that weekend because she was at a sleepover.
Pete texted Ye at the time: "Can you please take a second and calm down. It's 8am and it don't gotta be like this. Kim is literally the best mother I've ever met. What she does for those kids is amazing and you are so fucking lucky that she's your kids' mom."
He then offered to meet up with Ye so that they could speak "man to man," and revealed that he had been "nice" to Ye behind the scenes despite his recent behavior because he wants things to be "smooth" for Kim and the kids.
Pete said that he had told SNL not to make any jokes about Ye on the show and had also stopped his comedian friends from mocking the rapper in their stand-up routines.
Meanwhile, though Pete's mom is seemingly keen for her son to start a family with Kim, doctors warned Kim that she could face life-threatening complications if she got pregnant again following the birth of Saint.
Her two youngest children were born via surrogacy after she suffered serious health complications and traumatic labor in her first two pregnancies.
Her visit to her doctor, Paul Crane, was shown in a 2016 episode of Keeping Up With the Kardashians where he told her: "Here's what I think, your pregnancies, you had toxemia, you had a retained placenta, very traumatic, we're always worried about the next serious complication. I think the potential fear of the whole situation is legitimate."
"You never know that you might not have the same type of problem that might be more serious this time," he went on. "You're always taking a little bit of a chance. There are situations where retained placenta could be life and death."
Later in the episode, Kim said: "Lately I've been thinking I would love to maybe have another baby. But I had two really difficult pregnancies and really difficult deliveries so getting pregnant again it's something that does concern me."
She was shown to be exploring surrogacy as an option at the time, and her first surrogate was pregnant with baby Chicago the following year.