High Stakes Testing: Friend? Foe? Neither?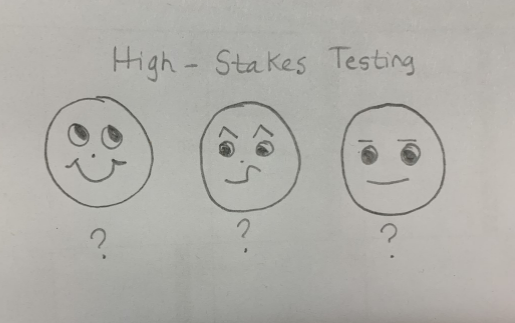 I use to say April belongs to testing as this was the month my district began high-stakes state testing. Now, they start in March and end in May.  That means high-stakes testing consistently touches the climate in my class for 3 of our 10 academic months. This is not counting the benchmark testing that occurs throughout the year.  I have observed that the end year testing season totally changes the tone of learning in our class as students take on an "I'm done" attitude toward learning.  The more I guide students through learning, the more I question the weight we place on state testing. I do think they have some value, but I also think they underdeliver for the amount of money, time, preparation, distraction from learning, and stress that they put all of us through.
Friend
For some students, teachers, and systems, high-stakes tests are awesome! These are probably students that test well, teachers that prefer to group and teach based on standardized data, and systems that want easy to measure outcomes.  My district uses a computer-based program for benchmark and high-stakes district testing. I was told that the company that makes the program also makes our state test.
What I love about the program is that it allows students to see how they are performing on state standards.
We are a public school and we still teach the state standards within our Montessori instruction and students do the district computer-based program at home as a part of their homework.  Throughout the year, students and I meet to discuss their progress and I support them in identifying specific skills and lessons they need, focus areas, and academic plans. This allows them to take ownership of their learning and gives them specific areas to focus on. It also allows each academic plan to be individualized. Partnering with the students (and their parents) allows me to share the responsibility and data needed for individualization at this level.
Lastly, although the formatting and programs are different, I do appreciate the connection to state testing. Our school analysis has shown that there is a very strong correlation between how a student does on the district program assessments and how they do on the state program assessments. This is helpful in making projections and planning.
Tracking performance data throughout the year is helpful for showing the growth of students that do not test well.
There are several cases where students do not perform their best on high-stakes tests. These tests often do not allow for retakes and may not allow students opportunities to check answers before submitting. Therefore, having the additional high correlation data collected over the year allows another way to assess how bad test takers performed on state standards.
Foe
I have many reasons for appreciating high-stakes tests, and I have just as many (or more) for disliking them, specifically for the elementary child (Kinder – 6th grade).  The first thing is the fact that they are identified as high stakes. Does it make sense for moment-in-time assessments to be used as a major indicator of yearlong student learning? What about the many impactful and meaningful learning that happened that cannot be captured on a test? What about the social and emotional learning that is a primary focus in our schools today and often takes precedence to academic instruction based on the immediate needs of the students? Should point data that is greatly influenced by factors outside of a teacher's control weigh heavily on teacher evaluation?
These are children that are not in control of their own lives. In addition to this, students are actively growing and developing at high, yet different, rates with varying emotional, social, financial, and developmental needs. Ironically, persons in support of high-stakes testing will say that these are reasons why we should use them. While assessing student academic development can be beneficial and, in some cases, an indicator of unmet needs, using high-stakes testing as a major indicator is inappropriate.
Today, high-stakes testing is typically done on a computer. While this is helpful for getting a quick turnaround on data, it may not be the best vehicle to use for capturing what students know (especially young children). For example, depending on the program, students may not be able to go back to review their work before submitting it.
In addition to the stress many students experience, one of the most negative results of high-stakes testing is that students and teachers lose opportunities for learning.
Although testing typically does not take the full day, the disruption often causes students (and teachers) to no longer be mentally available for rigorous instruction the rest of the day.
Combine this with a series of testing that occur over months and it is not hard to imagine the challenges this presents to maintaining a teaching environment.
Another concern with high-stakes testing is that they often limit the ways students can solve problems to predetermined approaches. For example, these tests use to be multiple choice on pencil and paper. Students were free to solve the problem in whatever way they wanted and review their answers before submission. In my district, our benchmark testing that mirrors state testing involves students knowing a specific method or predetermined methods to solve problems. In addition to this, they often include multipart answers that require a student to get a series of questions correct.
Missing one question in the series results in all of it being wrong.
Other skills include drop and drag, drop screens, and so on. Interestingly, these tests are said to prepare students for college, yet the tests used for college entry are at this point multiple choice.  In addition to knowing how the question should be interpreted, students must also be computer savvy.
Neither
My overall position on high-stakes testing is that it is neither friend nor foe.  I think the value is subjective. I also think that it is important to remember that the outcomes of these assessments often do not hold much value to many students and families other than to indicate performance level. Yet, knowing performance levels is important. For example, reading and academic readiness by 3rd grade is an indicator of future progress. Does this mean that children should start high-stakes testing in kindergarten? That continues to be an ongoing debate.  For all students, testing may have its place and its benefits, but high-stakes testing for students under 6th grade seems to demand more than it gives.