Assessing the Nation's Report Card with Chester E. Finn, Jr.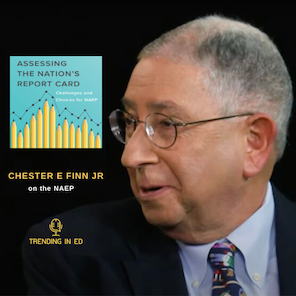 Chester E. Finn, Jr. is a Distinguished Senior Fellow and President Emeritus at the Thomas B. Fordham Institute and a Senior Fellow at Stanford University's Hoover Institution. He's the writer of Assessing the Nation's Report Card: Difficulties and Alternatives with the NAEP. He joins host Mike Palmer in a dialogue about the history of the NAEP, its difficulties and possibilities, and the great importance of having a shared established of expectations for instructional performance across the nation. You can learn much more about the NAEP by checking out Overhauling the Nation's Report Card.
We commence by listening to Chester's origin story relationship again to doing work in the Johnson Administration and for Daniel Patrick Moynihan just before setting up to perform with the NAEP in 1969. From there we dig into the power of "low-stakes tests" like the NAEP in giving a read on educational effectiveness when not penalizing pupils, academics, or educational facilities primarily based on overall performance. We speak about society wars and politicization and how to stay clear of several of the pitfalls there when also steering clear of the broad brush attacks on standardized testing as a complete. We conclude with Chester's read through on modern effects which are troubling just before wrapping up. Don't miss this deep dive into how we get a read on how the country is performing in training!
Subscribe to Trending in Instruction anywhere you get your podcasts. Go to us at TrendinginEd.com for much more perspectives on what's emerging in the planet of finding out.
---
Episode References
6673220
6673220:ID9VTLJB





merchandise
1
apa

default
asc











https://trendingineducation.com/wp-written content/plugins/zotpress/